Republic Skatepark home > News >
Skatepark second in line for funding
February 11, 2021
Originally published in Ferry County View Story by Brenda Starkey
REPUBLIC – The Republic Skatepark project was ranked second by the Washington Wildlife and Recreation Coalition among proposed Local Parks projects.
The ranking is used to distribute state funding for projects, which means the skate park will almost certainly receive the $359,600 grant the local committee needs to make the project a reality.
"Ranking second is an incredibly strong showing for a small rural community like ours. The grant process is very competitive and the skate park went up against big city projects with big budgets and professional staff,"" Bob Whittaker said. "Our skate park initiative was 100 percent driven by the public with Committee Chair Anthony Houston at the helm. We had 63 letters of support and that was a new record in the Local Parks category!"
Last spring the skate park committee requested letters of support from local citizens and entities to include in the grant application.
Letters of support came from adults, organizations and youngsters who would like to use the skate park.
Letters came from Boyds, Spokane, Wauconda, Curlew, Republic, Inchelium and Seattle. Among the letters supporting construction of the skate park were letters from the Confederated Colville Tribes and the Kalispel Tribe of Indians.
The project is ranked right after a request from Spokane County Parks and Recreation and before another project from Yelm. Both of those projects requested $1 million grants.
The skate park is to be located on donated land across the street from Republic School. The land, donated by Sue and Dave Betschart, is valued at $40,000. A donated grant from Jeff Ament of Pearl Jam for $10,000 and donated labor projected to be worth $4,000 round out $54,000 in matching funds.
The entire project is estimated to cost $403,600.
The project will be located on approximately 1.12 acres of 2.8 acres of land. There will be a parking area and a five-foot-wide ADA-compliant concrete path from the parking area to the park's primary gathering area. There will also be two covered viewing areas with picnic tables and benches, according to the project description in the grant application. These will allow people to view activities on the skating facility.
"We are on a recreation roll and it is because the citizens of Ferry County have stepped up to make this a better place for locals and tourists alike," Whittaker said. "And get this, not only did our community effort just win us this skate park grant but the Ferry County Rail Trail Partners expect to finish surfacing the rail trail this summer, how great is that? None of this would be possible without the recreation grant opportunities made possible by the Washington Recreation and Conservation Office."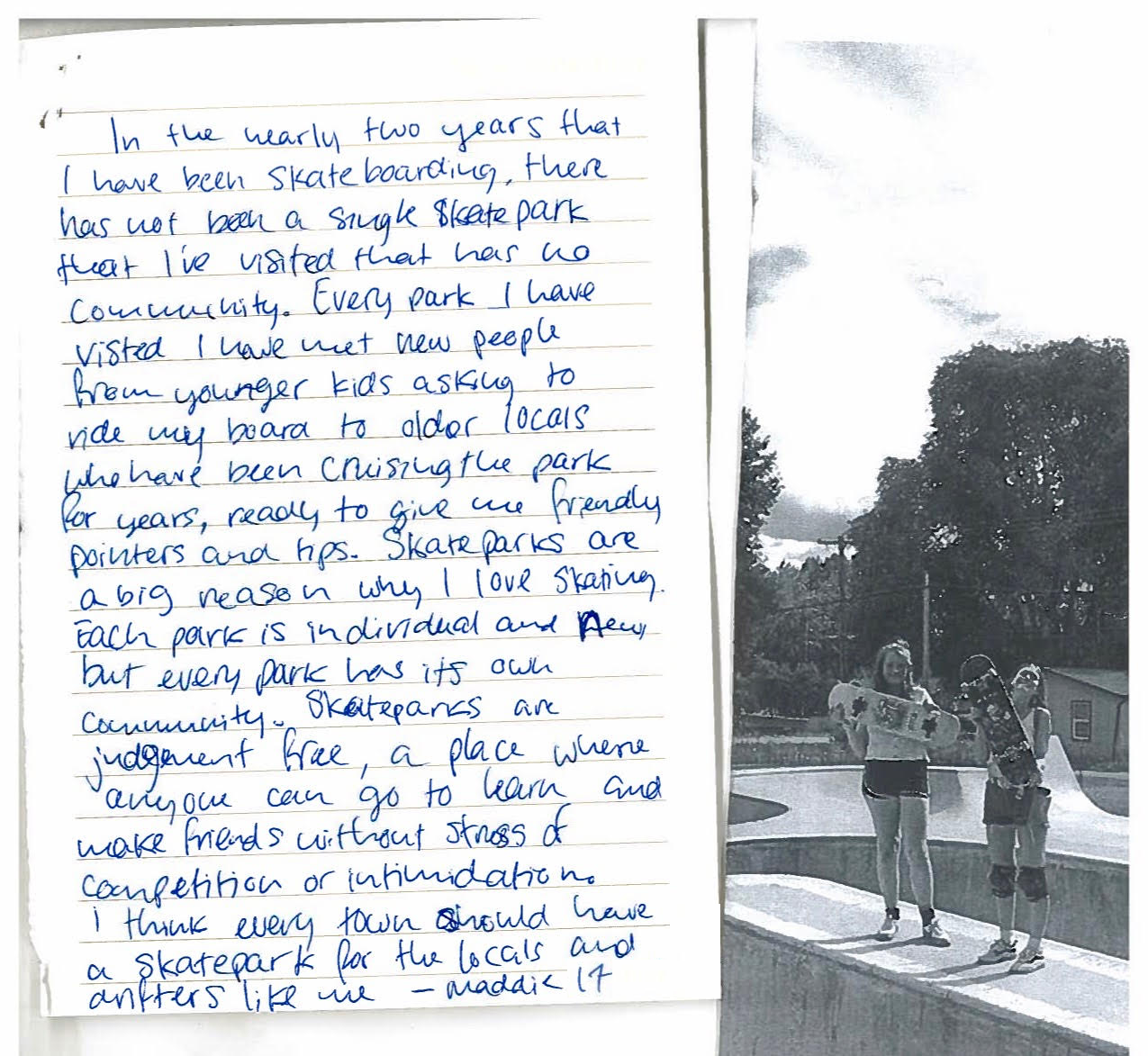 One of 63 letters of support. There were many winners and lots of giveaways for the youth letter writing campaign thanks to Montana Pool Service, Grindline Skateparks and Blackmarket Skates.